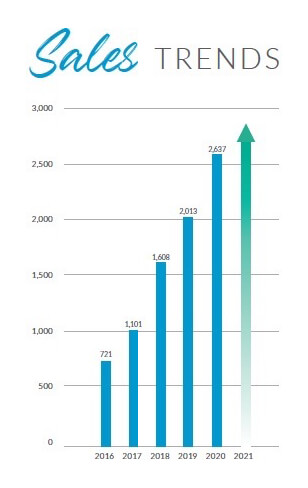 Home buyer demand is surging and people are buying in Land Tejas communities.
Overall home sales in the developer's 10 actively selling communities are up a solid 32 percent during the first quarter of 2021 versus the same timeframe last year, and that's with several of the communities seeing sliding home sales as they near close-out.
Of Land Tejas' three most active communities, the sales increase is incredible. Sierra Vista — ranked No. 43 on a report of the nation's top-selling master-planned communities in 2020 — has seen 165 new home sales during the first quarter of this year — a 135 percent increase.
Lago Mar has seen similar success, with builders reporting 112 new home sales or a 75 percent year-over-year increase from January through March. Home to the state's largest Crystal Lagoons® amenity, it's clear the "lagoon effect" is making an impact in the Texas City development.
We first noticed the lagoon effect in Balmoral, which opened the state's first lagoon in 2018. Home sales skyrocketed, selling 334 homes that year and 467 in 2019. The number of new-home sales jumped in 2020, reaching 841 — an 80 percent climb that landed Balmoral at No. 11 on the nation's 50 top-selling communities ranking. Even with such a strong 2020 performance, the percentages are increasing in 2021, with 224 homes sold in the first quarter alone. That compares with 167 during the first quarter of 2020 — a 34 percent increase.
Overall, builders in Land Tejas communities have sold 789 homes during the first quarter of 2021, and if the trend holds, we are well on track to surpass the 2,637 homes sold across Land Tejas communities in all of 2020. Home sales have climbed steadily since 2016 as new communities have opened and new community amenities introduced:
2016 — 721 sales
2017 — 1,101 sales
2018 — 1,608 sales
2019 — 2,013 sales
2020 — 2,637 sales
With more Land Tejas communities opening this year — and new neighborhoods in our existing developments — those numbers will only continue to go up. With each community, Land Tejas is delivering an exceptional lifestyle — and people are noticing.